Atomic
Regular price
5,300.01 ฿
Sale price
1,590.00 ฿
Unit price
per
-70% OFF
Out of stock
Even Fish Envy Split Fins!
Why do SplitFins deliver more propulsion with less effort?

 
Using traditional fins can result in leg strain, fatigue and cramping. Because of the kick resistance, divers often "felt" like they were moving fast whilst they were actually moving relatively slowly.
Along comes the SplitFins which deliver more propulsion with less drag and kick with less effort. This in turn reduces the stress and strain of the kick cycle, resulting in more sustained speed, power and comfort. resulting in independent testing that has also confirmed that the SplitFin design can significantly reduce air consumption.
However, Not all SplitFins are the same! Splitfins come in a variety of shapes, sizes and stiffness. Which in turn contributes to overall comfort and performance.  it's well known that a fin with short, soft blades will kick easier than that of a longer, stiffer one, but in turn, will require many more kicks to cover the same distance. However, a blade that is too rigid will require additional effort to be able to kick comfortably. Atomic SplitFins are specifically designed to optimize all these considerations. They're easy kicking fins, that deliver high thrust, efficiency and speed, along with a comfortable, low-frequency kick cycle.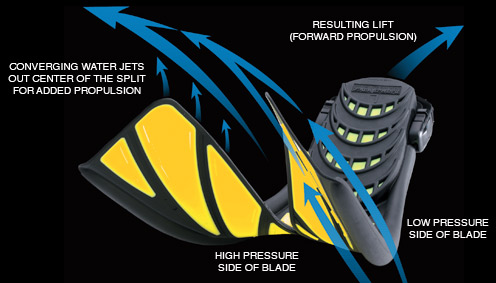 How Atomic Splitfins Work
Traditional paddle fins work by pushing water rearward. As a paddle fin is pushed through the water, much of the water spills over the top surface of the blade and sticks to it, creating drag. The extra kicking effort is required to overcome that drag. The Atomic SplitFin slices through the water with two wing-shaped surfaces, creating lift and forward propulsion more like a propeller. Any water travelling over the top of the blade is funnelled into and out of the opening (split) between the wings. Drag is reduced, the effort is reduced, and efficiency is increased.
Propeller-Fin™ Technology Moves You Faster Atomic Aquatics SplitFins use Propeller-Fin Technology to deliver ultra-high speeds with a small-range rapid flutter kick. This works in the same manner that increasing the RPM on a boat propeller accelerates a boat to high speeds.
Multi-Composite Plastics And Other Uniquely Atomic Feature The Atomic signature is the use of exotic materials specifically designed to improve performance. Atomic developed multi-composite plastics for the SplitFins to maximize the efficiency of the kick with less fatigue. Flexible side rails and a stiff foot pocket are combined with stiff battens in the blade to control the flex pattern for optimum performance. A patented EZ-LOK Buckle System is a distinct Atomic feature that makes divers love them even more.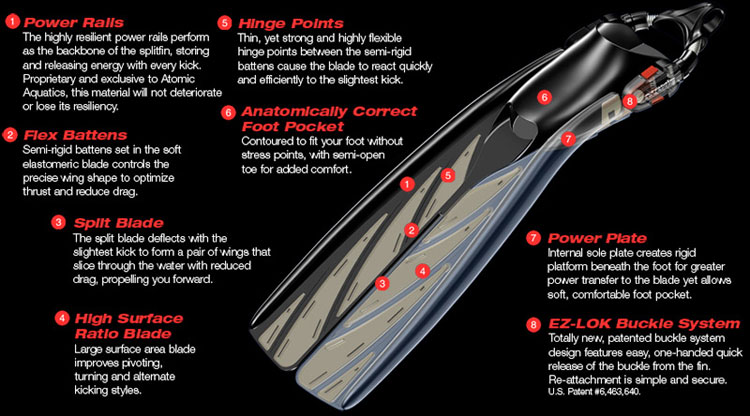 Atomic Aquatics Split Fins Size Chart

|   | SM | MD | LG | XL |
| --- | --- | --- | --- | --- |
| US Men's shoe size | 5.5 | 6-8.5 | 9-11 | 11.5-13 |
| US Women's shoe size | 6-7 | 8-10 | 11-12 | 13-14 |
| European Men's shoe size | 37-38 | 39-41 | 42-43 | 44-46 |
| Length (inches) | 23.5 | 24 | 24.5 | 25.5 |
| Width (inches) | 7.75 | 7.75 | 8 | 8 |
| Weight (pounds per pair) | 3 | 3 | 3 | 3 |
** Product is end of line so no refund or return and the item may show signs of slight discolouring, however this does not affect the performance and the item is quality checked before sending.
Share
View full details